In recognition of their expertise and dedication to the "Walking With Dinosaurs" Enrichment
at Harrison County Parks & Recreation,
Friday, June 1, 2018 has officially been declared
"Ray & Mary Ellen Garton - Prehistoric Planet Day" in Harrison County.
Please join us in congratulating RAY & MARY ELLEN!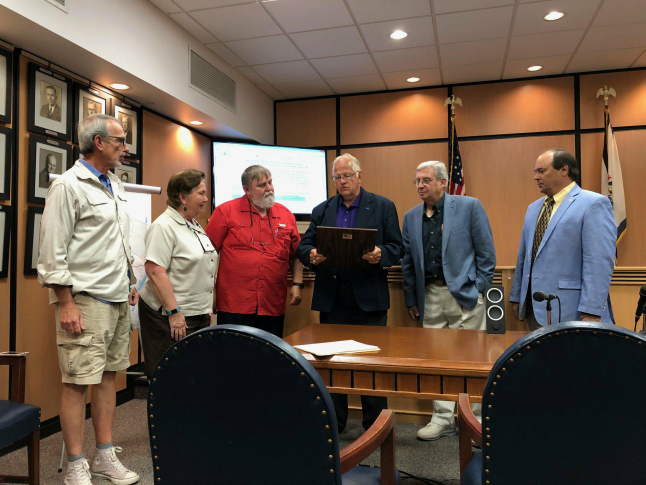 Pictured from left to right: HCPR Director - Michael Book, Recipients - Mary Ellen Garton and Ray Garton,
Commission President - Ron Watson, Commissioner Bernie Fazzini and Commissioner David Hinkle.
Welcome
Harrison County Parks and Recreation offers a variety of services throughout the year. We have many programs offered on a seasonal basis including special events, summer playground programs, instructional programs and sports leagues. Please explore the site to learn more. Many of our programs are offered at the Harrison County Recreation Complex.
Do you need a speaker for your groups meeting? The Harrison County Parks and Recreation Department would like to come and speak to your group about who we are, what we do and what programs we offer. For more information, or to schedule a speaker, please call the HCPR office at 304-423-7800 during business hours Monday thru Friday 8:30am - 4:30pm, or contact us by e-mail by visiting our contact us page.
*PLEASE NOTE:
that our office/business hours do not coincide with our special program hours.
Family days, and public hours for current programs are specified in multiple locations.
See banner and announcement section on this page or visit our calendar page,
for special program hours available by days.

We appreciate your visit and look forward to providing your recreational needs. We welcome your feedback about this site or any of our programs, projects or policies!
Programs
Harrison County Parks and Recreation offers various programs throughout the year, including, after school programs, youth sports and summer recreation.
Upcoming Events
Please check our calendar page for dates and times pertaining to upcoming events. If you have any questions or need more information, feel free to give us a call at 304-423-7800
| | Click here to enjoy photos from our various exhibits, and functions held at our state of the art Recreation Facility, located on rt 19 South in Clarksburg, as well as seasonal activities and sports programs that your children can participate in throughout the year. |
| --- | --- |